Say Goodbye to Insta: How to Permanently Delete Instagram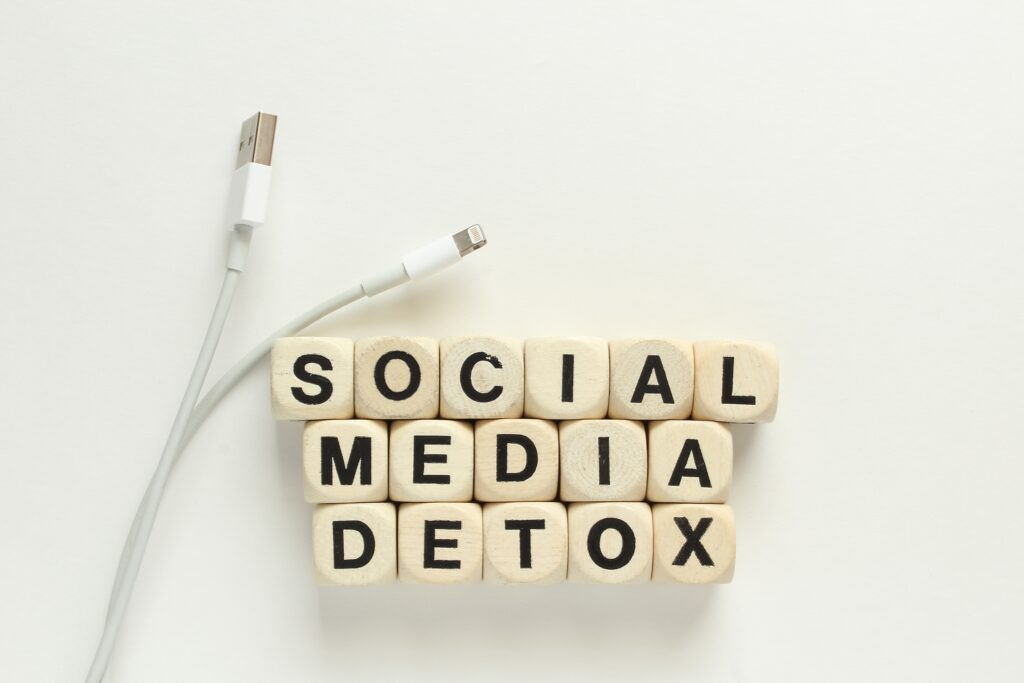 Since you're reading this post, we dare to assume you're one of the 1 billion users who log onto the app every month to share your life with the world. Whether it's your latest culinary creation, an epic vacation snap, or just a quick selfie, Instagram has become an integral part of our daily routine.
But let's face it, with the rise of social media, privacy concerns have become a hot topic. As we post more and more of our personal lives online, it's natural to start thinking about the trade-offs that come with it. So if you're rethinking your presence on Instagram, don't worry, you're not alone!
In this guide, we'll walk you through the steps of permanently deleting your Instagram account so that you can take back control of your online privacy. We'll also teach you how to temporarily deactivate an Instagram account so you could take a break from the social media life and come back whenever you're ready.
Let's get started!
What information does Instagram collect about you?
You might be surprised to know that every time you open the app and share your latest post, you're actually giving away a lot of information about yourself. From your location to your search history, Instagram collects a wealth of data on its users.
So, what exactly is Instagram collecting about you? Let's take a closer look.
Profile information
This includes your name, username, profile picture, bio, and website link.
Activity information
Instagram keeps track of your likes, comments, and posts, as well as your search history, direct messages, and saved posts.
Location data
The app can access your device's GPS to determine your location and collect information about the places you've been to.
Device information
Instagram collects information about the type of device you're using, including its operating system, device settings, and IP address.
Contact information
If you choose to connect your Instagram account to your phone's contacts, the app will collect information about the people you know.
While this information might seem harmless, it can paint a pretty detailed picture of your life and habits. And with data breaches becoming more and more common, it's important to be mindful of what information you're sharing online.
What does Instagram do with the collected user data?
Now that you know what information Instagram collects from you, you might be wondering what the company does with all that data. Well, wonder no more! Let's dive into what happens to your data after you hit that share button.
Ad targeting. One of the primary uses of your data on Instagram is to target you with personalized ads. The app uses your profile information, activity data, and location data to show you advertisements that are relevant to your interests and habits.
Analytics. Instagram uses your data to gain insights into how users interact with the app. This information helps the company improve its features and make the app more user-friendly.
Research. Instagram also uses user data for research purposes. This helps the company understand user behavior and make informed decisions about the app's future.
Sharing with Facebook. As Instagram is owned by Facebook, user data is also shared with the social media giant. This information is used to improve both platforms and to provide you with more personalized experiences across all Facebook products.
How can I temporarily disable my Instagram account?
So, you're thinking about taking a break from Instagram and want to temporarily disable your account. No problem! Here's how you can do it.
First, you need to open the Instagram app. Tap the profile icon located in the bottom right corner of the screen to access your profile. Now tap the three horizontal lines in the top right corner of your profile, then select the "Settings" option.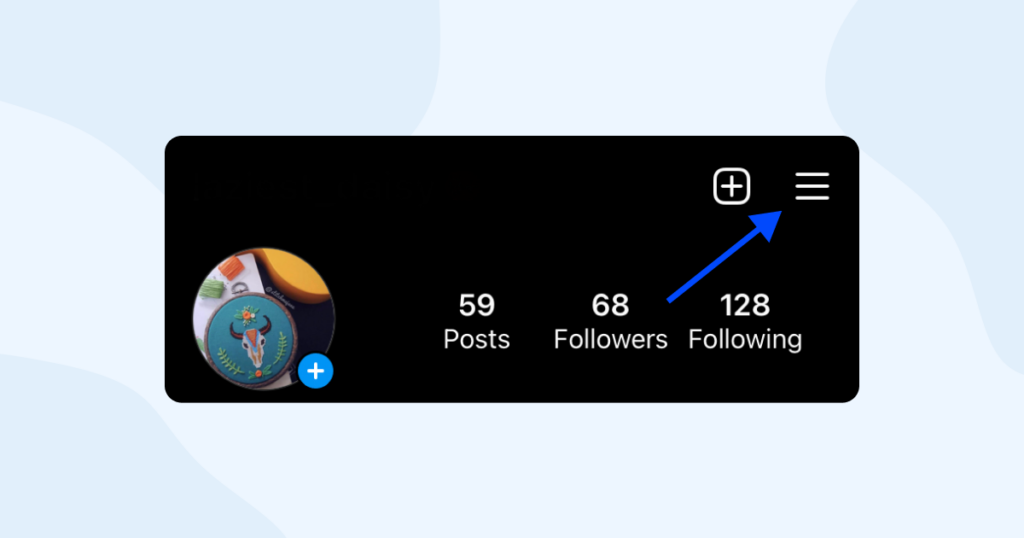 Look at the bottom of the "Settings" page and tap on "Account".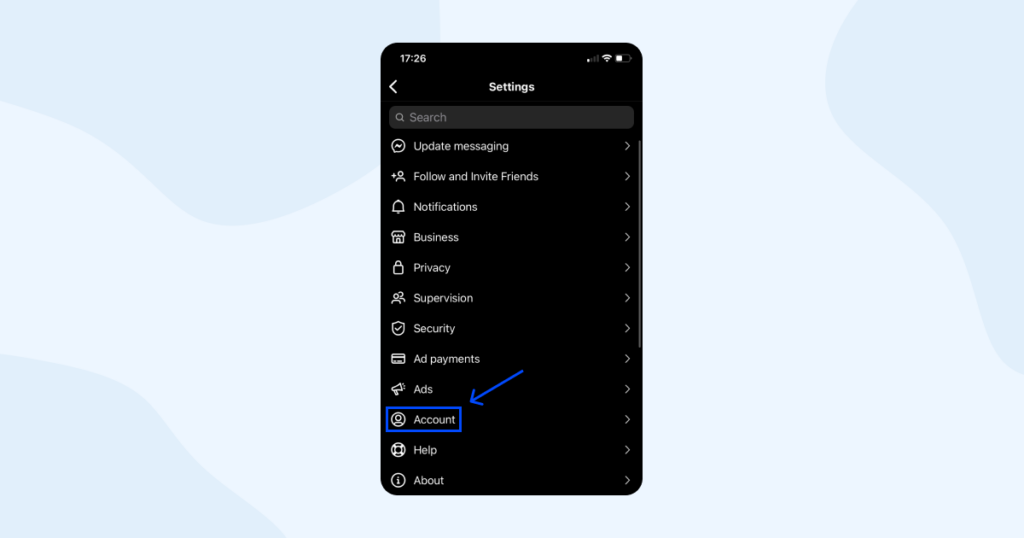 Look at the bottom of the screen and search for the "Delete Account" option.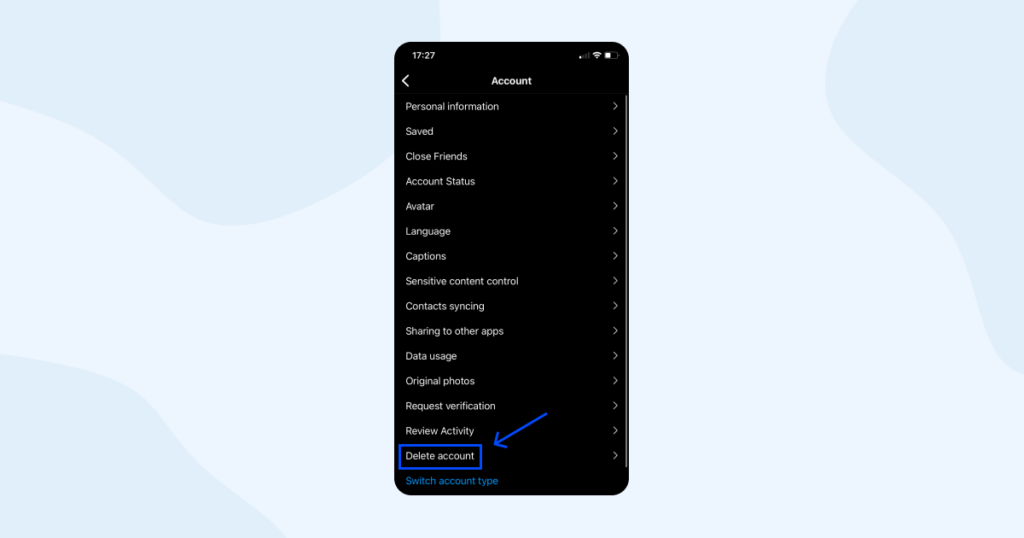 Don't fret and tap it — it won't delete your account. Yet 😉
Now select "Deactivate account".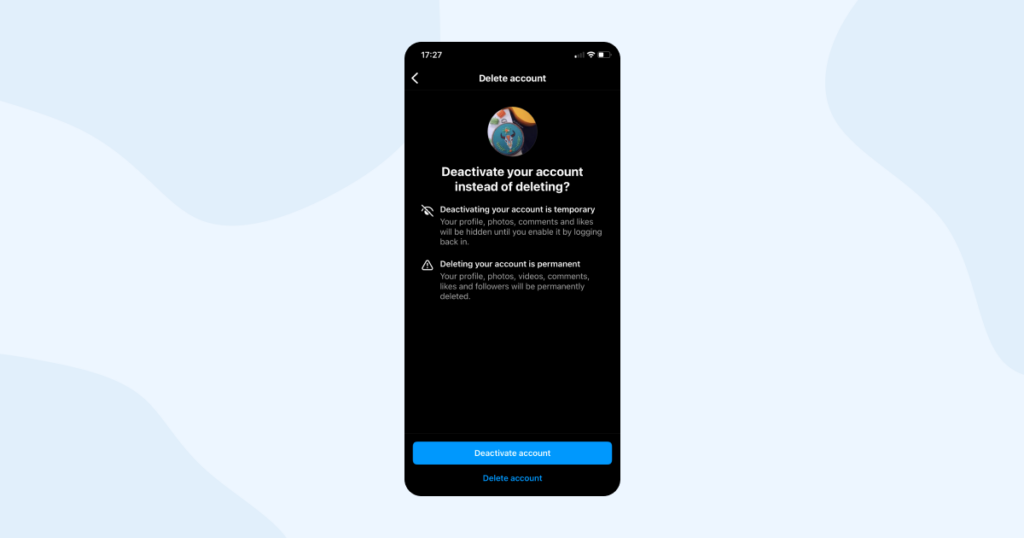 Instagram will probably ask you for a reason for disabling your account and prompt you to re-enter your password. Once you've provided this information, tap "Deactivate account".
And that's it! Your Instagram account will now be temporarily disabled and will not be visible to other users. When you're ready to return to the platform, simply log back in to reactivate your account.
Keep in mind that while your account is temporarily disabled, you won't be able to access your account or see your posts, comments, or profile information. So, before disabling your account, make sure to download any photos or content you'd like to keep.
How to permanently delete your Instagram
If you have been feeling the need to take a break from social media and put your focus elsewhere, we can totally understand. Let us take you through the process step-by-step, whether you're using an iPhone, Android app, or computer, and let you know what to keep in mind along the way.
iPhone
Open the Instagram app.
Go to your profile: tap on the profile icon in the bottom right corner of the screen.
Access your settings: tap on the three horizontal lines in the top right corner of your profile, then select "Settings".
Look at the bottom of the "Settings" page and tap on "Account".
Choose "Delete account". There will be two options: deactivate and delete. Deactivating is temporary while deleting is permanent. Select the needed option.
Delete your account. Select "Continue deleting account" and follow the further instructions.
Android
When it comes to Android phones, the process of deleting an Instagram account becomes slightly more complicated since Instagram doesn't allow you to delete your account on its Android and website versions. However, even if you are an Android user, it doesn't mean you're stuck with Instagram forever, you just need to access the Instagram account deletion page on your mobile web browser or computer. Here's what you have to do.
Log in to your account.
Choose a reason why you want to delete your account.
Re-enter your password.
Select "Delete account"
So there you have it — a complete guide to deleting or temporarily disabling your Instagram account. Whether you're looking to take a break from social media, are concerned about privacy, or are simply ready to move on, the process is easy to follow. Just remember to download any photos or content you want to keep before making the final decision to delete your account.
It's also important to note that by using Instagram, you are agreeing to have your data collected and used by the platform. This can include information such as your location, browsing history, and demographics. If this is a concern for you, it's worth considering deleting your account as a way to protect your privacy. And who knows, you might just find more time to focus on the things that matter most to you!